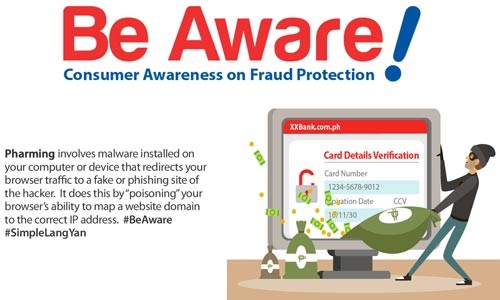 Pharming is a type of online fraud conducted by hackers to grab your personal information through the Internet. It is similar to the more familiar "phishing" attacks wherein a victim clicks on a link and is directed to a fake website. In pharming, a user inputs the legitimate website address into the browser's address bar but will still be directed to a bogus website. Either way, the fraudulent website will look the same as the actual one.

Please read through the tips below so that you can still continue to enjoy the convenient and easy way of doing your banking transactions online.


Regularly update the ANTI-VIRUS and ANTI-SPYWARE software installed in your computer.

ONLY log in to PSBank Online via www.psbank.com.ph with your Username and Password; no other information will be required or asked from you.

When websites you regularly visit suddenly require you to input your account number/s, PIN and other sensitive information to log in, you may be encountering a possible attack.

Ensure that the website address of the PSBank Online login page is from our SECURE SITE "https://www.psbankonline.com.ph".

Verify the VERISIGN SSL CERTIFICATE if it is current and updated.

DO NOT download suspicious attachments and click links included in your email messages and/or Facebook and other social networking site accounts.

Regularly MONITOR the activities of your account/s.

If you suspect that your PSBank Online access has been compromised, IMMEDIATELY change your password and call our 24/7 Customer Experience hotline at (632) 8845-8888.
PSBank strives to protect all our customers from possible online attacks. With your help and vigilance, we can avoid this from happening. Report suspicious activities on your PSBank accounts by calling our 24/7 CX Hotline mentioned above or contact us here.


Be Aware! is PSBank's consumer protection campaign that provides clients with the necessary information to protect them and their hard-earned savings against scams.