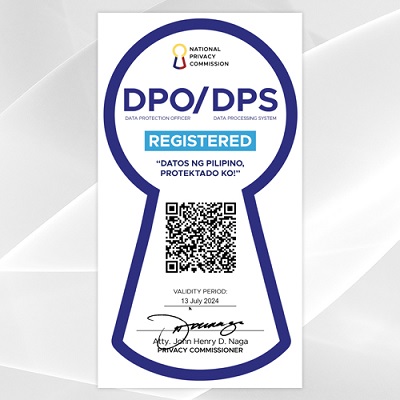 SIMPLE LANG, MAAASAHAN.
When you bank with us, maaasahan mong we will safeguard your personal and account information and fully ensure your safety and privacy.
PSBank secures your data through:
Applicable laws, rules and regulations.


We keep your data confidential and use it only within the bounds of applicable Philippine laws, rules, and regulations. We only share your information when it is expressly authorized by law and most importantly, when it is with your consent. Further, we retain and safely store your data for as long as your account exists and, should you decide to part ways with us, up to five (5) years from the date of closure of your account except for your signature-bearing documents in digital form and system logs / records which shall be retained up to ten (10) years for legal purposes, or until the final closure and termination of the case should your account becomes subject of dispute pursuant to the requirements of the Anti-Money Laundering Act (AMLA), as amended and its Implementing Rules and Regulations (IRRs).




Our high security standards and measures.


Tight organizational, physical and technical security policies and measures are in place which undergo continuous assessment to improve securing your privacy. All bank employees from staff to key officials have the responsibility of ensuring that your data is collected, stored and handled appropriately. Our employees undergo regular training in matters of protection, privacy, confidentiality and security and we impose sanctions and penalties for non-compliance. Finally, we ensure that our information and communication systems are technologically up-to-date. Technical security measures are in place to control and limit access to your personal data to our authorized personnel.




Our secure banking channels.
We only collect your data through secure contact points such as our trained branch personnel, our Customer Experience Hotline, our electronic channels (PSBank Online and PSBank Mobile), PSBank LiveChat and website.


WE PROTECT YOUR DATA PRIVACY RIGHTS.
You have the exclusive control over your data; hence, you may or may not allow us to proceed with the processing of your data.
What we may collect from you:
Personal data and employment details;

Financial information, business interests, and assets;

Details of your family members, beneficiaries, attorney's-in-fact, and other individuals or companies related to you;

Government-issued tax and social security numbers;

Transaction details with third party merchants and companies;

CCTV video and image, and sound recordings of when you transact in branches or through phone banking; and

Non-personal information that can be read on your device when you use PSBank's website, applications, and other electronic platforms;

Data and information we generated in the ordinary course of our business, such as but not limited to customer-profiling, making credit opinion, market research, cross-referencing;

Other personal or non-personal information received by and/or disclosed to us in the course of the performance of our obligation under Anti-Money Laundering Act (AMLA), Credit Information System Act, existing regulations of the Bangko Sentral ng Pilipinas (BSP), and other applicable laws.
What we may use your data for:
To commence and facilitate the efficient delivery, administration, operation and/or implementation of the products and services you have availed from the PSBank including related activities outsourced to PSBank's authorized agents, service providers and third parties;

To validate, verify and/or update your submitted information and related documents;

To communicate with you in response to your queries, requests, instructions, complaints and suggestions;

To protect you and PSBank against fraudulent, unauthorized or illegal transactions or activities;

To enable PSBank to enforce its rights or perform its obligations by reason of any law, rules and regulations, contracts or orders from any court or quasi-judicial and administrative officers with the corresponding duty to keep such information confidential in accordance with PSBank's Data Privacy Policy;

To use in the prosecution or defense of PSBank or its directors, officers and employees with regard to the settlement of claims and disputes involving PSBank's products and services;

To enable PSBank, its subsidiaries and affiliates within the Metrobank Group to reach out and offer you other products and services relevant to you such as in cross-selling arrangements; and

To enable PSBank, its subsidiaries and affiliates within the Metrobank Group to perform other general purposes such as internal or market research, cross-referencing, status inquiry, making credit opinion, evaluation, profile analytics, security, etc.
In accordance with the use of your data, we may share your data:
To our business units tasked to perform and deliver our products and services;

To our accredited service providers or agents that we have engaged to perform certain functions or activities on our behalf in accordance with existing laws and regulations governing outsourcing arrangements;

To third parties where we have contractual obligations and required to make necessary disclosure;

To our parent-bank, subsidiaries and affiliates within the Metrobank Group;

To regulatory authorities, courts, quasi-judicial agencies, law enforcement agencies, and other relevant government bureaus or agencies; and

To your authorized and/or legal representative/s, assignee/s, and beneficiary/ies.
We honor and recognize your rights under the Data Privacy Act of 2012, as follows:
The right to be informed if your data is being processed or has been processed, what data is being processed, and for what purposes;

The right to reasonably demand access to your data;

The right to object or withhold your consent to the processing of your data;

The right to correct any inaccuracy or error in your data;

The right to block or erase your data if it is proven to be incomplete, outdated, unlawfully obtained, or used for unauthorized transactions.

The right to file a complaint with the National Privacy Commission if your personal information has been misused, maliciously disclosed, or improperly disposed, or that any of your data privacy rights have been violated;

The right to damages sustained from inaccurate, incomplete, outdated, false, unlawfully-obtained data as well as damages from unauthorized uses of your data; and

The right to data portability or obtain and electronically move, copy or transfer your data in a secure manner, for further use.

WE CARE FOR YOUR SAFETY
Thus, we highly encourage you to maximize you data privacy and security by:
Protecting your information


Keep your data safe by making sure your account details, PINs, username, and password are not accessible to others. Use strong passwords and change them regularly. When on electronic platforms, make sure to use pass codes on your devices and keep your software updated.





We will not be able to serve you properly if your information is not updated. Make sure the information you submit is accurate, complete, and not misleading. Keep documents that can verify your information safe and available. If there are changes to your information, inform us immediately.




Contacting us through our secure channels
Take advantage of our secure channels by contacting us in person at our branches, via recorded line through our Customer Experience Hotline, our e-channels (PSBank Online and PSBank Mobile), PSBank LiveChat and website.



When communicating via email, never disclose sensitive information such as account numbers, credit card numbers, or passwords. We will never ask you for these via email nor ask you to confirm any such information by clicking on a link in an e-mail.





If we need sensitive personal information, an authorized bank representative will get in touch with you.




Reporting any data issues


If you think your data has been mishandled in terms of confidentiality or integrity, or if you think your data has been tampered with, contact us through any of our secure channels mentioned above.





You can also directly contact our Data Protection Officer through the following:
Data Protection Officer
16th Floor PSBank Center
777 Paseo de Roxas corner Sedeño Street, Makati City, 1226 PH
Telephone Number: (632) 8885-8219 or (632) 8885-8208 Local: 8169
E-mail Address: [email protected]

MOVING FORWARD
Due to the rapidly evolving nature of banking and technology, we will update this Privacy Policy Statement from time to time to stay aligned with the latest laws and regulations. All changes will be posted on this site. We encourage you to periodically check and review this policy so that you will know what information we collect, how we use it, and with whom we share it.
For any questions, clarifications, requests, or feedback on this Statement or how we process your information, you can reach us through our branches, our Customer Experience Hotline, or our Data Protection Officer.
Thank you.